Unleash your potential with our top phone and tablet picks for Fortnite
Fortnite has been dominating the gaming world since its release in 2017, with millions of people now streaming it across multiple different platforms. It's a multiplayer game with action gameplay and great graphics, and subsequently you need a powerful phone or tablet to be able to play.
So, if you are an avid Fortnite player, your device might be stopping you from playing your best – or you might not know which phone or tablet to choose that will take your game to the next level. Don't worry, we have you covered with our top device picks for Fortnite in 2020. (Spoiler alert – the Huawei P20, T3 Mediapad and Galaxy S7 Edge are our winners!) 
Our Favourite Phone

Our High End Choice

Best Budget Phone

Samsung Galaxy S7 Edge
⭐⭐⭐⭐⭐

Huawei P20
⭐⭐⭐⭐⭐

iPhone 6s
⭐⭐⭐⭐

Our Favourite Tablet

Best Screen

Best Budget Tablet

Huawei MediaPad T3
⭐⭐⭐⭐⭐

Google Pixel 2 XL
⭐⭐⭐⭐⭐

Acer Iconia One 10
⭐⭐⭐⭐
Best Phone Screen for Fortnite

: Google Pixel 2 XL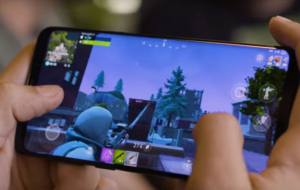 | Pros ✅ | Cons ❎ |
| --- | --- |
| - Large Screen Size | - Mid range battery size |
| - Snapdragon 835 | - Not great for off angle gaming |
| - OLED Display | |
We are starting out strong with the Google Pixel 2 XL, as it wins our award for the phone for Fortnite with the best screen for gaming, and rightly so. The 6 inch P-OLED display with QHD + 2880 x 1440 resolution offers bright and clear colours that will make the Fortnite map seem even more lifelike. Furthermore, the curved edges and slim and light design offer comfortable grip for a long amount of time, so therefore you can game for longer and not miss any of the action. 
If this isn't enough to persuade you, the 3520mAh battery packs a punch and offers a decent amount of gaming time. This is teamed with Snapdragon 835 which powers outstandingly quick performance, and uses 25% less power, so your battery will last as long as you. Additionally, the dual front facing stereo speakers offer wide and loud sound quality, so if you don't like being restrained by headphones then this is definitely a winner! 
Unlock your potential with the Pixel 2 XL here.
Our High end choice: Huawei P20 
| Pros ✅ | Cons ❎ |
| --- | --- |
| - Powerful performance | - Slightly more expensive |
| - Great screen size | - Screen notch |
| - 3400mAh Battery | - Display not as impressive |
If you are looking to treat yourself as well as bringing your A – game, the Huawei P20 is for you. Not only does it have a breathtaking looking design, its gaming capabilities are brilliant, and gets 5* from us. The HiSilicon Kirin 970 processor is one of the best in the industry, and teamed with the GPU turbo accelerator this phone has great graphics and quick reactions, so don't expect it to slow down with all day use. 
If you are putting hours in trying to beat your Fortnite high-score or competing in a Tournament, the P20 has serious stamina with a 3400mAh battery. The P20 boasts a 5.8 inch screen with 1080 x 2244 pixels, which do a great job of bringing the map to life. 
Treat yourself and start your winning streak with the P20 here.
 Best Budget Choice: Apple iPhone 6S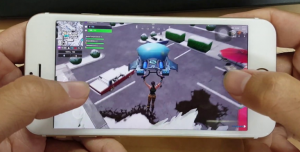 | Pros ✅ | Cons ❎ |
| --- | --- |
| - Great performance | - Battery life |
| - Great budget option | - Smaller screen size |
| - iOS technology | |
If you are a loyal iPhone fan – don't worry – we have you covered. Not only does the iPhone 6S step up to the task of Fortnite (and other games) it is a perfect option if you're on a budget!  Don't be worried that it is an older model – it runs smoothly and the A9 chip performs and lasts well.
The 2GB of RAM handle Fortnite easily, and the reactive iOS technology is quick to get updates and has less errors than android. However, if you like intense Fortnite tournaments, the battery life of the iPhone 6S is smaller at 1715mAh, and the screen is only 4.7 inches with 750 x 1334 resolution, which still does a fantastic job, but doesn't offer maximum viewing potential. However, if you find it easier and more practical to game on a smaller phone, you need to consider the 6S's more compact size. 
Start your next winning Tournament with the iPhone 6S here.
Our Favourite Phone for Fortnite : Galaxy S7 Edge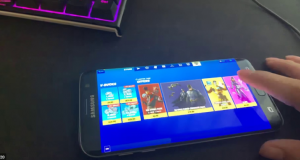 | Pros ✅ | Cons ❎ |
| --- | --- |
| - HD Curved screen | - Mid range performance |
| - 5.5 Inch screen size | - Speaker volume |
| - 3600mAh battery | |
Whilst we love all of the featured phones – the Samsung Galaxy S7 Edge is our favourite all rounder for Fortnite. Samsung phones are notorious for having great screens, and the curved 5.5 inch screen on the S7 Edge looks stunning with 1440 x 2560 screen resolution and offers an immense and sharp viewing experience. The powerful 3600mAh battery lasts long with intense use, and also supports fast charging so you can get back to gaming when your phone runs out as soon as possible. The Exynos 8890 and Snapdragon 820 teamed with 4GB of RAM offer fast performance that lasts without lagging. 
The S7 Edge's Game Launcher feature enables total game management, which allows you to keep all your games in one place. You can disable notifications and alerts for uninterrupted gaming, and record your games to store so you can watch them back after and work on maximizing your performance.
Become the best of the best and shop the Galaxy S7 Edge here.
Our Favourite Tablet: Huawei MediaPad T3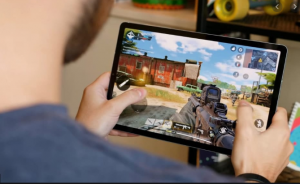 | Pros ✅ | Cons ❎ |
| --- | --- |
| - Large 9.6 display | - Weaker battery |
| - Great performance | - Display quality |
| - Comfortable and lightweight | |
Tablets have larger screens and batteries, and if you don't think a phone will cut it for Fortnite, then a tablet is a great option, and the Huawei MediaPad T3 10″ is our top pick! The Snapdragon 425 processor is powerful enough for intense gaming, and the 9.6″ screen is a spot on size for optimum viewing and comfort. The 4800mAh battery lasts for about 10 hours of Fortnite fun, and the added eye comfort mode means your eyes are protected from strain. The lightweight and comfortable size also results in gaming on the go being made even easier. 
Furthermore, the IPS screen with 1280×800 pixels is enough to achieve such great colour quality you won't want to take your eyes away from your game. The MediaPad also comes with great storage abilities, which is essential if you are a keen gamer. It has 16GB and 2GB of RAM which can easily be expanded to 128GB through the handy microSD port. 
Get bigger and better gaming on the Huawei MediaPad here.
Best Budget Tablet: Acer Iconia One 10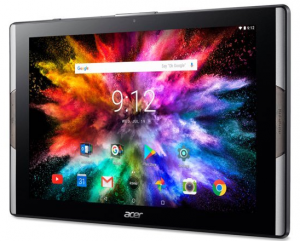 | Pros ✅ | Cons ❎ |
| --- | --- |
| - 10.1" Screen size | - Average processor |
| - Premium sound quality | - Mid range battery size |
| - Bright screen | |
| - Cheap price | |
If the price of a tablet seems scary to you – our budget option of the Acer Iconia One 10 is for you. Firstly, it achieves a smooth performance with the 1.5GHz processor and 2GB of RAM, so you can avoid your game freezing and lagging. Secondly, the speaker quality is also very impressive – which results in the map coming to life and allows for a more sensory gaming experience. 

Moreover, the real winner on this tablet is the 10.1″ screen size with 1200×1920 screen resolution. In addition, the large display is also sharp and bright, and makes the map come to life. This is teamed with the DTS-HD premium sound system with front facing speakers, which work extremely well together. In conclusion, as a budget option, this tablet is a winner in our eyes.

Achieve victory for less with the Acer Iconia One 10 here.
If Fornite isn't the only game you play, we also have also selected a range of the best budget tablets for playing Roblox.