Boost your fitness with our top picks for the best smartwatches and headphones for working out in 2020!
---
Recently taken up a new sport or got a new found love for fitness? Or just looking to make some healthier choices? With the UK Governments recent 'Better Health' campaign, there is no better time to jump on the fitness bandwagon. But, whatever your chosen sport is – your current technology isn't up to the task. If you want to take your performance to the next level then you need a good quality smartwatch and set of headphones. Not sure which ones are going to be the best for you? Don't worry – we have carefully selected the best headphones and smartwatches for working out. 
From tracking steps, heart rate, distance, intensity and more, smartwatches really are the ideal exercise accessory. They have apps, texts and calls available so you don't even need to take your phone out with you – sounds pretty good, right?
Furthermore, most people can't workout with their favorite songs blasting in their ears. But, we have all been in the position where our headphones are falling out and getting in the way, or not giving us the best sound quality – and if this is you then you need to invest in a good set of headphones to complement your watch. 
| | |
| --- | --- |
| Best Overall Watch: | Best Value Watch: |
| Galaxy Watch (RM805F) | Fitbit Versa or HR |
| Best Men's Style Watch: | Best Women's style Watch: |
| Galaxy Watch (R815F) Black Edition | Galaxy Watch (R815F) Rose Gold Edition |
| Best Watch for Runners: | Best Headphones: |
| Samsung Gear Sport | KitSound Outrun Evolution |
| Best Premium Headphones | Best Value Headphones: |
| Samsung Gear Iconix or Airpod Pro's | KitSound Race Sports In-Ear Earphones |
---
Best Samsung Galaxy Smartwatches?
If you want a sports watch that does it all, looks good and isn't extortionately priced, then Samsung's range of smartwatches are ideal. They have countless great features, but the main beauty of some of the Samsung watches is that they don't look like an obvious smart watch. So, if you aren't keen on square faces on sports watches and want something more versatile then these are going to be for you.
Furthermore, the selected watches have 4G connection, so you can open apps such Spotify or Whatsapp, reply to calls and messages, and internet browse, without having to interrupt your workout and go on your phone. The Galaxy Watch RM805F wins our award for the best overall smartwatch, and the rose gold and black Galaxy Watch R815F come up top trumps in the style department.
Galaxy Watch R805F 
✔️ - 4G Connection
✔️ - Watch design
✔️ - Voice control
✔️ - 50 metres waterproof
✔️ - Heart rate, steps, distance trackers
✔️ - Samsung Pay
❌ - No qwerty keyboard
❌ - No video calling

With 4G Connection and texts, calls and apps, this watch looks great, does it all and is the best all rounder smart watch. The gorilla glass design looks stunning, and the super AMOLED display is bright and clear. For fitness purposes – it tracks steps, speed, heart rate, intensity and actions, and is also waterproof. It also has a 472mAh battery that lasts well and will keep you going through whatever you are doing. 
Galaxy Watch R815F
✔️ - Samsung pay
✔️ - Gorilla glass
✔️ - AMOLED touchscreen
✔️ - GPS, heart rate, barometer
✔️ - Wireless charging
❌- Not good in extreme conditions
❌ - No camera
❌ - Weaker 270mAh battery
Coming in rose gold and black, the Galaxy Watch R815F looks fantastic and also performs very well. It is a lighter and more comfortable weight at 49 grams, so won't feel bulky on the arm, has a 1.2″ AMOLED display that is bright, and has all the fitness features you could need such as steps tracking, heart rate, intensity monitor, and GPS. 
Samsung Gear Sport
✔️ - AMOLED display
✔️ - Smaller, practical size
✔️ - Waterproof
✔️ - Great fitness tracking
✔️ - Waterproof
✔️ - Sporty design
✔️ - Sync offline songs from Spotfiy
❌ - Design not as premium looking
❌ - Low battery life

If you are a couch to 5k fanatic, or are an avid runner, and you just want something that isn't too expensive and tracks your runs then the Gear Sport is a fantastic option. It tracks calories, sleep, steps, running and swimming laps, has GPS distance tracking and more. You can set yourself goals and easily keep your fitness on track with this watch, and the lightweight model makes it easy and comfortable to wear. 
Start making healthy changes now and buy a Samsung Galaxy watch here!
Perfectly pair with?  Samsung Gear Iconix Cord Free Fitness Earbuds 
---
Best Apple Watches?
Apple Watch Series 4 
✔️ - Great Apple design
✔️ - Water resistant to 50m
✔️- Stunning OLED retina display
✔️ - Great fitness tracking
✔️ - ECG heart tracker
✔️ - App access
❌ - More premium price tag
❌ - Weaker battery life
❌ - Larger screen may be bulky
You can't go wrong with any of the Apple watches, but the Series 4 is our favorite. I feels premium, looks fantastic and will give you a massive motivation boost. It prompts you to move more, tracks your every move in every way you could need, and if you are really serious about improving your health, it also detects falls and can monitor your heart rate and let you know if it doesn't seem normal. It also has an extended battery life so if you do like long walks or runs then this will keep up with you. 
Up your game and buy a Apple Watch Series 4 here. 
Paired with?  You can't go wrong with Apple Airpods. 
---
Best Other Watches?


Fitbits
Fitbit watches are also great options for sports watches – and their wide range means that they have something to suit everyone. If you want something with a more streamlined screen then the Ace 2 or Inspire HR have slimmer screens and get the job done – and if you can get them refurbished they are great value for money. They provide all day activity and calorie tracking, movement reminders, exercise recognition and sleep tracking, and these are great as a first time smart watch to get you going. 
The Fitbit Versa and Versa Lite range is more premium priced, but with always on display, Amazon Alexa, sleep tracking, fitness tracking, app access, notifications and fitbit pay, it is worth every penny. The battery can also last for up to six days – so if you don't want the inconvenience of regularly charging your smart watch then this is spot on. 
Get some serious motivation and buy a Fitbit here.   
Pair with? KitSoud Race Sports In-Ear Headphones  
---
 Best Headphones for working out?
Now you have selected the perfect watch for you – you need the ideal pair of headphones so you can blast your favourite songs to get yourself in the zone to maximise your workout. Wireless headphones are the best option – you don't want to get tangled or distracted by a long headphone wire and get knocked off your game. 
For Apple fans – we recommend the classic Apple Airpods. First generation or Pro's – they look sleek and stunning, pair amazingly with other Apple products, don't fall out and have amazing sound quality. 
For Samsung fanatics – The Samsung Gear Iconx Cord-Free Fitness Earbuds have been designed with fitness in mind. 
Best overall – Kitsound Outrun Revolution 
Kitsound offer great budget wireless headphones that are ideal for anyone who wants hassle free exercise at a low cost. They offer fantastic sound quality, are sweat/water resistant and have ear hooks and a wire that wraps comfortably behind the head to avoid them falling out. Designed especially for sport, these are great if you are a runner or walker, as they are light, you can easily adjust the volume, and they have a long lasting battery life. 
Become unstoppable and shop KitSound Outrun Evolution now. 
Best Budget Option – KitSound Race Sports In- Ear

Another winner by Kitsound – these Race Sports In – Ear wireless headphones have a lightweight and barely noticeable cord that wraps around the back of the head and handy ear clips to stop them falling out and distracting you. The sound quality is mid range – but with a cheap price tag these are an absolute steal especially if you don't want to spend too much money.
Get top performance at the lowest price and shop Kitsound Race Sports In Ear Headphones here. 
"All the gear, no idea"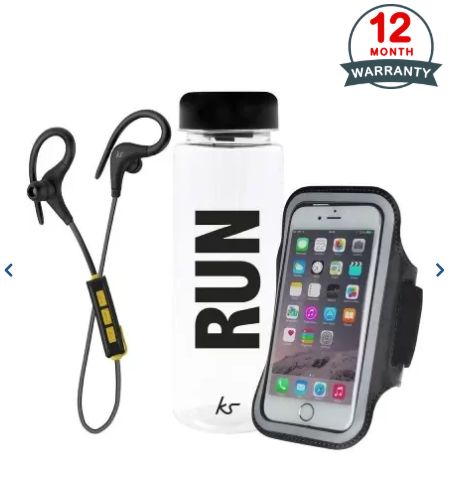 Whether you are a beginner with all the gear and no idea, or an experienced athlete – you want to look the part! Why not make the most of Kitsound's bundle packages and buy all the essentials you need all in one place? You save money on the headphones and also get a water bottle and armband to keep your phone secure – which seems like a great deal to us! 
Want all the gear and an idea? Get a KitSound Bundle today! 
---
Liked what you read and want to know more? We have plenty more where that came from! Get more  'how to' guides here on our blog! Or, visit The Big Phone Store and bag yourself the best technology deal now!